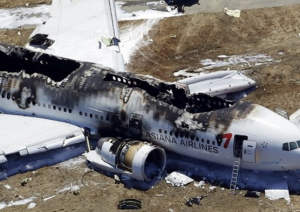 It had been an uneventful 10-plus hour flight from Seoul, South Korea, approaching San Francisco's airport on a clear summer day. Then, in a few horrifying seconds, that calm was shattered.
'Lopped off entirely'
A fireball erupted after the Boeing 777 airliner hit the runway hard around 11:30 a.m., rocked back and forth, spun around, shearing off the plane's tail. Scores of passengers and crew climbed out — some jumping, others sliding down evacuation chutes as flames and smoke billowed from the aircraft's windows.
Two people were found dead outside the plane, according to San Francisco fire Chief Joanne Hayes-White. The airline identified the dead girls as students Wang Linjia and Ye Mengyuan, both 16. Somehow, 305 others survived.
Video taken soon after the crash and posted on YouTube showed dark gray smoke rising from the plane, which was upright on its belly, with no landing gear evident. Its roof was charred and, in spots, gone entirely. The back of the plane appeared to have been lopped off entirely..
'No signs of terrorism'
Investigators from Washington and Seoul are heading to northern California trying to answer a simple question. How did this happen? While the exact cause will take months to determine, the South Korean Transport Ministry said "the tail of the Asiana flight hit the runway and the aircraft veered to the left out of the runway."
Members of South Korea's Aviation and Railway Accident Investigation Board will travel to San Francisco, that agency said. They'll be joined by a "go-to" team from the United States' National Transportation Safety Board, led by chairman Deborah Hersman. Right now, they're not sure what they'll find, though a U.S. national security official has said there are no signs of terrorism.
What do you think caused this deadly plane crash? Feel free to share your speculations with us via the comment box below!
Source: Greg Botelho | CNN
Image: Softpedia