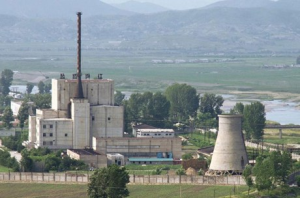 The United States will not accept North Korea as a "nuclear state," Secretary of State John Kerry warned on Tuesday, just hours after Pyongyang announced plans to restart a nuclear reactor it shut down five years ago. North Korea's decision comes as tensions on the Korean peninsula escalate over Kim Jong Un's threats to wage war against the United States and South Korea.
'Fully prepared and capable'
"The bottom line is simply that what Kim Jong Un is choosing to do is provocative. It is dangerous, reckless. The United States will not accept the DPRK (Democratic People's Republic of Korea) as a nuclear state," Kerry said during a joint briefing in Washington with South Korea Foreign Minister Yun Byung-se.

"And I reiterate again the United States will do what is necessary to defend ourselves and defend our allies, Korea and Japan. We are fully prepared and capable of doing so, and I think the DPRK understands that."



'Trigger a strong response'
The North's state-run Korean Central News Agency, KCNA, reported that the reclusive state's atomic energy department intends to "readjust and restart all the nuclear facilities" at its main nuclear complex, in Yongbyon.
The tensions on the Korean Peninsula have led Pyongyang to sever a key military hot line with Seoul and declare void the 1953 armistice that stopped the Korean War. Seoul, meanwhile, on Monday warned that any provocative moves from North Korea would trigger a strong response "without any political considerations."
Do you think North Korea will go ahead and wage war against the U.S. and South Korea? Or is Kim Jong Un just bluffing?
Source: Jethro Mullen and Chelsea J. Carter, CNN
Image: 3 News