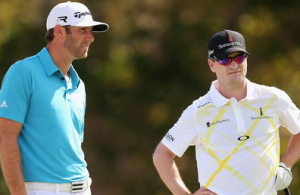 Dustin Johnson and Zach Johnson have decided to skip the Ballantine's Championship in South Korea, according to a report from Reuters (via Yahoo!).
'Threaten to strike South Korea'
You can hardly blame an American athlete for wanting to avoid the region. North Korea's regime under Kim Jong Un continues to threaten to strike South Korea without warning and has missiles in place ready to fire, and Kim continues to hurl venom at the United States.
'Skip the tournament'
According to Reuters' report, the top-ranked player in the tournament will be No. 7 Louis Oosthuizen, while other recognizable players will include South Korea's Yang Yong-eun, British Open champion Paul Lawrie and Paul Casey.  While the American pair will skip the tournament due to political unrest in the region, they also sacrifice the chance to win the $2.88 million prize for first place.
Dustin Johnson has had a very solid season, with four top-13 finishes including a win at the Hyundai Tournament of Champions and a 13th-place finish at last week's Masters. He currently ranks No. 17 in the world. Zach Johnson hasn't been as successful, with just one top-20 finish on the year and a ranking of No. 30. He finished a disappointing 35th at the Masters. Despite the pair pulling out of the tournament, plenty of talented players will still compete.
Was pulling out of the Ballantine's Championship in South Korea a good move for both Dustin Johnson and Zach Johnson? Who says 'Yay' and who says 'Nay'?
Source: Timothy Rapp, Bleacher Report
Image: Golf 365