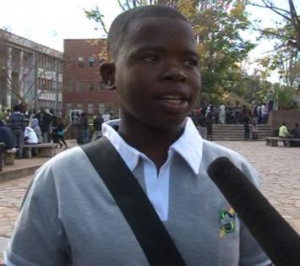 She grew up in grinding poverty, losing both her parents at a tender age but 14-year-old whizz-kid Maud Chifamba has defied adversity and hardship to break academic records. Against all odds, the extremely bright teenager has written history as last week she became the youngest ever university student in Zimbabwe — as well as the whole of southern Africa, according to education officials.
Maud, who was born on November 19, 1997, has just started her studies toward a Bachelor of Accountancy Honors Degree at the University of Zimbabwe, the country's oldest and most esteemed educational institution. Her intellectual prowess and hard work have earned her a four-year scholarship of nearly $10,000 after she excelled at last year's Advanced Level exams.
Born to a poor family in the Hunters resettlement community in Chegutu, central Zimbabwe, Maud lost her father when she was just five years old. Her mother also passed away last year. Her two brothers, who are general workers at a farm, were unable to pay the fees required to keep her at formal school so Maud started studying vigorously at home all by herself.
Armed with determination, Maud put all her efforts into studying, embarking on a disciplined reading routine that lasted for several hours each day. Maud says the death of her parents made her realize that she would have to take her destiny into her own hands.
Her hard work paid off last December when she scored 12 points at her A-Level exams, an astonishing feat that earned the 14-year-old girl a place at the Harare-based University of Zimbabwe. Maud is now on course to conquer even greater heights, becoming Zimbabwe's youngest ever accountant when she graduates in four years time.
Do you admire Maud Chifamba for her determination and achievement despite her troubles? Share your own success stories with us!
Source: CNN
Image: Zimbabwe News Online