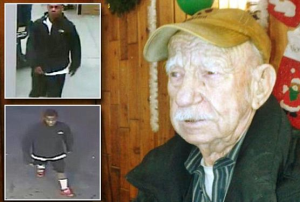 A suspect in the brutal beating of a World War II veteran who later died from his injuries has been arrested, as police in Spokane, Washington continue to search for a second attacker.
'Serious head injuries'
Police confirmed that a 16-year-old had been charged with first degree robbery and first degree murder in the Wednesday parking lot attack. They said they were still looking for a second 16-year-old suspect, Kenan Adams-Kinard.
The Spokane Police Department said in a press release officers responded to reports of an assault Wednesday and found the victim, 88-year-old Delbert Belton, in his car with serious head injuries. He died Thursday in the hospital. Friends identified Belton, and say he was sitting outside a lodge for the Fraternal Order of the Eagles when he was attacked.
'Random'
"It does appear random. He was in the parking lot, it appears he was assaulted in the parking lot and there was no indication that he would have known these people prior to the assault," Spokane Police Major Crimes Detective Lieutenant Mark Griffiths told the station.
The Spokane Police Department is asking anyone with information to call their hotline at 456-2233.
Why do you think was Delbert Belton beaten to death by these teens? What is the root of the many senseless violent crimes happening these days?
Source: Fox News
Image: Before It's News