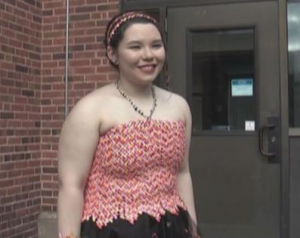 Diane McNease, a high school student from the northern Michigan town of Ishpeming, had sweet idea when she saw a friend folding Starburst wrappers. Eighteen thousand candies later, she fashioned the bodice of a homemade dress completely out of the colorful papers and wore it to the prom last Saturday night, May 5. Her date, Luke DeWitt, is one of her best friends from the swim team.
The teen told WLUC-TV it took her a year-and-a-half to collect all the wrappers and five months to create the dress which also features a black satin "ball gown" skirt layered with tulle. "It was kind of a dare," she tells Shine. "Someone said I couldn't do it. That's the last thing you should say to me." She says DeWitt encouraged her through the whole process.
McNease explains to Shine that she did have some help. "My friend Bria Johnson made the fabric part of the dress for me. I couldn't have done it without her." The high school junior also says that dad, David, pitched in. "Every night he would help hand sew the folded strips of wrappers to the dress for a few hours." For the first month, McNease ate all the candy herself. Friends at her school, which only has about 300 students, were happy to assist in the eating phase of the project.
McNease isn't the first young woman to don a candy wrapper dress on her big night. Last year, Tara Frye splashed out in a tutti-frutti colored gown that her mom, Kerrin, had spent six years crafting out of Starburst wrappers. The crafting website fluffyland.com has an easy tutorial for how to make a cute Starburst bracelet with only 30-36 wrappers.
Future prom queens, would you wear a gown made of Starburst wrappers? Share your thoughts with us!
Source: Yahoo News
Image: 10 News