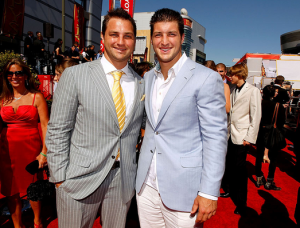 In 2010, the Broncos drafted Tim Tebow, and last year, Tebow led the Broncos to a playoff win. This year, his replacement, some guy named Peyton Manning, threw two interceptions as Denver lost in overtime.
'Mr. Can't-Handle-The-NFL'
And while no sane person would say that Tim Tebow is a better quarterback than Peyton Manning, that didn't stop someone with a vested interest in Tebow in pointing out that the most recent Denver playoff win still came at the hands of Mr. Can't-Handle-The-NFL.
'That's karma'
Tebow's brother Peter took to Twitter with a simple message: "Am I the only one in Denver who's happy right now?" Well, the Ravens are probably celebrating, but you get the point. (And just to drive that point home, Tebow retweeted someone who wrote, "That's karma, Elway.")
Of course, it's easier to make pro-Tebow jabs on Twitter than it is to score on Denver's secondary. Even so, this nonsense isn't going to stop until Peyton Manning actually wins a playoff game for Denver.
Do you feel bad for the Denver Broncos for their recent loss? Who do you think is the better quarterback — Tim Tebow or Peyton Manning?
Source: Jay Busbee, Yahoo Sports

Image: Black Sports Online