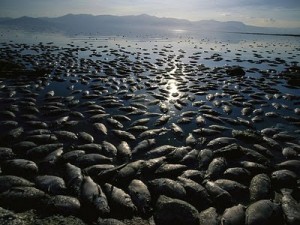 Earlier this week, authorities in Redondo Beach, California started the slow and agonizing process of scooping, blasting and vacuuming tons of dead sardines from a southern California marina. Authorities had to act fast before the tons of dead fish could poison and possibly infect the remaining sea life in the marina. The tons of sardines had apparently died from suffocation when they all pressed up inside the marina.
There are many theories as to why the large school of sardines had trapped themselves in the shallow marina. One theory is that the school had hidden in the marina from a large predator. Another theory suggests that the school had simply gotten lost from the marina and trapped themselves in the shallow area. Instead of leaving, the fish crowded in the marina, using up all the oxygen in the water and suffocating.
A majority of the authorities have done all they can in trying to get rid of the dead fish in the marina. Reports have stated that in some areas, there are as much as 2 feet of dead sardines found at the bottom of the marina. They have tried using a fire host to blast the dead fish from the bottom so they would float to the surface.
There is still a lot of speculation about what caused the large school to suddenly die. Some are arguing that the rough winds and rough water could have force them into marina but some discredit the notion, claiming that they have seen fish in the open seas even with bad weather. Another theory speculates that a toxic bloom of red tide had driven the fish away from the open seas and trapped them in the harbor.
Members of the State Department for Fish and Game have sent several samples of the dead fish to a lab to determine how they died and why. There is a running theory that the fish were cornered by predators and died as the tide rolled out. There are several predators in the area including mackerel, who love to feast on sardines, and the local seal population.
At the end of the day, authorities reported more than 22 tons of sardines were retrieved from the marina. The clean up took over 300 city workers and volunteers to clean up the surface of the marina. The sardines were then shipped to a compost dump. Redondo Beach is still looking for volunteers to help with the cleanup, offering them wage, food and water. The rest of the clean up would have a projected cost of over $100,000.