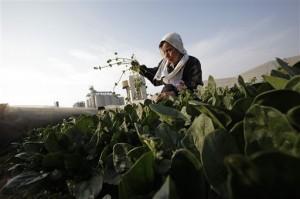 Earlier today, China and Korea announced that they would tighten checks and inspections on all food coming out of Japan. The announcement came hours after the World Health Organization announced that the detection of radiation in most of the food that came from Japan was more serious problem than they had expected. The WHO had expected a smaller radius of possible crops and food groups contaminated by the nuclear power plants' radiation.
State news agency Xinhua reported that China will monitor food imported from Japan for any signs of radiation, while South Korea will widen radiation inspections to all agricultural and processed food from fresh agricultural produce from Japan. Since the report from WHO, there have been several countries that have tightened up their radiation checks and inspections, especially from food products imported from Japan.
The WHO reported that It had no evidence of contaminated food spreading to any international countries, but food officials in Japan's Ibaraki and Fukushima prefectures, both areas close to the Daiichi nuclear plant damaged in the earthquake, reported that they had detected higher than usual iodine levels in samples of spinach and milk.
"Quite clearly it's a serious situation," said Peter Cordingley, Manila-based spokesman for WHO's regional office for the Western Pacific, in an interview on Monday."It's a lot more serious than anybody thought in the early days when we thought that this kind of problem can be limited to 20 to 30 kilometers," he added. The WHO stated that leafy green vegetables such as cabbage and lettuce, milk, egg and meat products are the biggest concern for contamination.
There is still no evidence that any produce from any of the prefectures made it out of the country and it would be difficult to determine whether food product originated from the contaminated prefectures. The WHO was in touch with Japan's own health ministry and WHO officials are expecting their Geneva headquarters to provide more guidance on what to do with Japan and the current health crisis regarding radiation contaminated food.
Officials from Japan's health ministry were more concerned about contamination inside the country, because of the inland circulation. They stated that there is a small chance that contamination could occur outside the country because of the intense monitoring being applied to their exported products.  Japan's government has stopped all shipment of raw milk from the Fukushima prefecture and also spinach shipments from the contaminated areas near Daiichi.