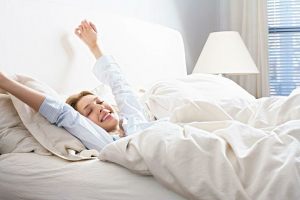 Laura Vanderkam, author of ebook What the Most Successful People Do Before Breakfast, says making smart use of the early morning is a practice most highly successful people share.
"Seizing your mornings is the equivalent of that sound financial advice to pay yourself before you pay your bills. If you wait until the end of the month to save what you have left, there will be nothing left over. Likewise, if you wait until the end of the day to do meaningful but not urgent things like exercise, pray, read, ponder how to advance your career or grow your organization, or truly give your family your best, it probably won't happen," Vanderkam writes. "If it has to happen, then it has to happen first," she says.
"Around 10% to 20% of folks are confirmed night owls. Screwing up your schedule is not wise for these folks–and they may have to choose professions and ways of working and ways of dealing with their families accordingly. Everyone else is in the middle–and my thesis is that there are real advantages to training yourself toward the lark side," she said.
In the book, Vanderkam lays out a five-step process to help you make the change with the minimum of pain:
Track your time: "Part of spending your time better is knowing exactly how you're spending it now," writes Vanderkam.

Picture the perfect morning: "Ask yourself what a great morning would look like for you," suggests Vanderkam.

Think through the logistics: "Map out a morning schedule. What would have to happen to make this schedule work?

Build the habit: "This is the most important step," writes Vanderkam before explaining how to gradually shift your schedule, noting and rewarding small wins along the way.

Tune up as necessary: "Life changes. Rituals can change, too."
How about you, what is your morning ritual? Tell us how these rituals help get you through your day!
Image: Soda Head